Luxury Vinyl Plank in Flint, MI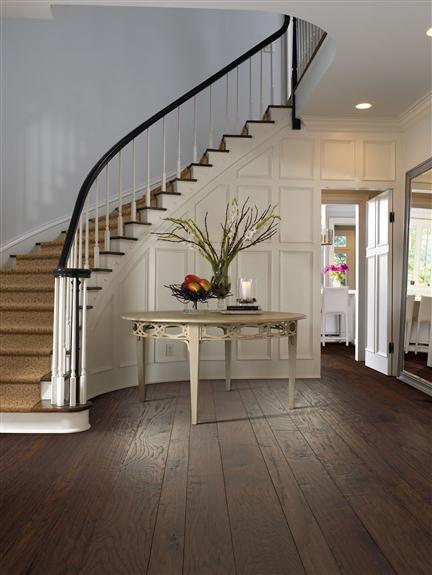 Wood floors are wonderful, but they can be more maintenance and more money than you'd like. What if you could give your home the beauty of solid hardwood flooring, but combined the low-maintenance benefit of vinyl flooring? Karen's Carpetmax makes that possible with our luxury vinyl plank flooring in Flint, MI. No other material so perfectly captures the look and feel of wood and combines it with such outstanding functional benefits. The 20+ year lifespan assures its high level of dependability, and because it isn't real wood, you won't need to worry about having it sanded or refinished.
Why Luxury Vinyl Flooring?
When you're cooking in the kitchen all day, you want a floor that's somewhat soft to stand on and easy on the feet. You also don't want to fear that your beautiful investment will be ruined with one spill. Luxury vinyl gives you those exact features.
Choose the stain and finish that speaks to your personal tastes, and you'll enjoy a 100% moisture resistant floor that blends in with your décor. No matter what room you have in mind, there's a sample of luxury vinyl wood flooring in our showroom that can suit it—and you—perfectly. Come by our showroom to see what we mean.
The Advantage of Luxury Vinyl Plank Flooring Installation From Us
In addition to helping you select your floor, we also have the skills and resources to install it for you. We want you to be able to use and love your purchase right away and supply the tools and contractors at a time convenient for you. Our luxury vinyl plank can be installed over vastly different surfaces, so it can go in any room in any home and fit right in. Furthermore, hiring us to install your wood look vinyl plank flooring saves you time, money, and unnecessary hassle—both in the short term and the long term.
No one knows the floors in our stock better than we do, so it's a no-brainer that we're the best choice for installation. Our years of experience coupled with our warranties and guarantees grant you the support you need both during the process and afterward. We do the job the way it should be done: correctly, punctually, and efficiently. You don't get that same assurance from a less reputable contractor, and any mistakes they make could cost you later.
Contact us for floors that serve you well for the long haul. We perform installations all over Flint, Swartz Creek, Grand Blanc, Davison, and Flushing, Michigan, and the nearby areas.